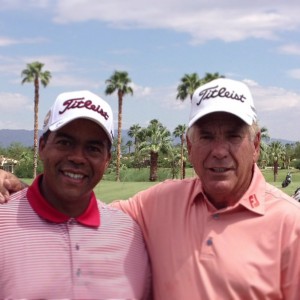 Bob Vokey and Geoff Dean, PGA
   at the 2013 So Cal PGA Championship
Having a good short game is essential to every player's success.  Your wedge game definitley plays a large part of the short game and it's essential you have the right equipment.
I have had the great fortune to spend time with some of the greats in the game and Mr. Bob Vokey is one of them.  He's a very gracious man and always willing to help his players succeed.  He takes specific time to analyze your swing tendencies, overall short game plan of attack and the type of courses you play in general. 
With that information, he's able to come up with a great combination of wedges with tailored lofts, grinds and bounces to each player.  I've even had the opportunity to have him personally grind some of my wedges to fit my needs specifically. 
Even though you may not have the opportunity to work with the club designer, there are great options for you.  TPI or Titleist Performance Institute has opportunities to visit their Carlsbad, CA facility whereby you can work with some of the best techs in the business.  They can and will custom fit your wedges for you.  If TPI isn't an option, then I suggest you contact your local Titleist Representative and he or she can tell you where you can get custom fitted for Titleist wedges.
Go out and seek to improve your game…get fitted for your short game and see your scores get better.
Best of Luck and Happy Golfing,
Geoff Dean, PGA